Lionel Messi gets two goals, assist
For the first time since joining Inter Miami CF, Lionel Messi and Sergio Busquets were in Inter Miami CF's starting lineup Tuesday night at DRV PNK Stadium in Fort Lauderdale, Florida.
In the eighth minute, Busquets lofted a perfect ball over Atlanta's defense to Messi, who missed his first attempt but put back the rebound to give Miami a 1-0 lead.
In the 22nd minute, Messi scored on a counterattack with an assist from Robert Taylor, who scored Miami's third to give the team a 3-0 lead at halftime.
A rousing ovation from Miami's home crowd greeted Messi's 78th minute substitution. Busquets left the game six minutes earlier and was replaced by Victor Ulloa.
I'm pleased we were able to make our fans happy. A very good game and we took another step forward," Miami manager Gerardo Martino said.
As a result of sweeping its group, Miami has advanced to the round of 32 of the Leagues Cup, in which it will face an opponent to be determined.
Messi scored against Atlanta for the 100th time.
Messi and Busquets played together for 13 years in Barca's first team before Messi moved to Paris Saint-Germain in 2021, and they remain close friends.
After so many years of playing together, Busquets said, "it's very easy to play with him.". "I'm so happy to be by his side.".
On Friday, Messi won the game with the final kick in a dramatic win over Cruz Azul in which Busquets came on as a substitute.
Messi and Busquets were managed by Martino at Barcelona and he said he wasn't surprised to see them score the opening goal.
Martino said the two players create space because they are so good at what they do.
Miami right-back DeAndre Yedlin said the spirit of the team has changed since those two arrived. "Obviously, guys are really excited, but their presence gives everyone more confidence." I also believe the teams we are playing against now have a bit of fear in their eyes. You know you're in for a tough game when those two are on the field."
Martino, who was named Miami's coach on June 28, confirmed Monday that Messi would be the team's captain against Atlanta and going forward.
"Fans respond to what they see and what the team transmits to them. Many come to see Lionel. Celebrities and regular fans. He stands out, but he can also spread that support to the rest of the team," Martino said.
The fans left in droves after Messi was substituted, but he didn't really notice it. The type of player he is, Messi is a global star, and some fans may only be here to see him, but he would prefer that the fans stay until the end to applaud the team, but I can also understand that.
To put a bow on the storybook saga that saw Messi signing with David Beckham's side in Major League Soccer, Messi curled a free kick from just outside the penalty area into the top corner on Friday.
Messi could make his MLS debut against Charlotte on Aug. 20 in Miami's Leagues Cup competition, a World Cup-style tournament between MLS and Liga MX sides.
Jordi Alba, another former Barcelona player who signed with Miami on July 20, was not included in Miami's squad for the game against Atlanta.
This report was based on information provided by ESPN contributor Ross Devonport and The Associated Press.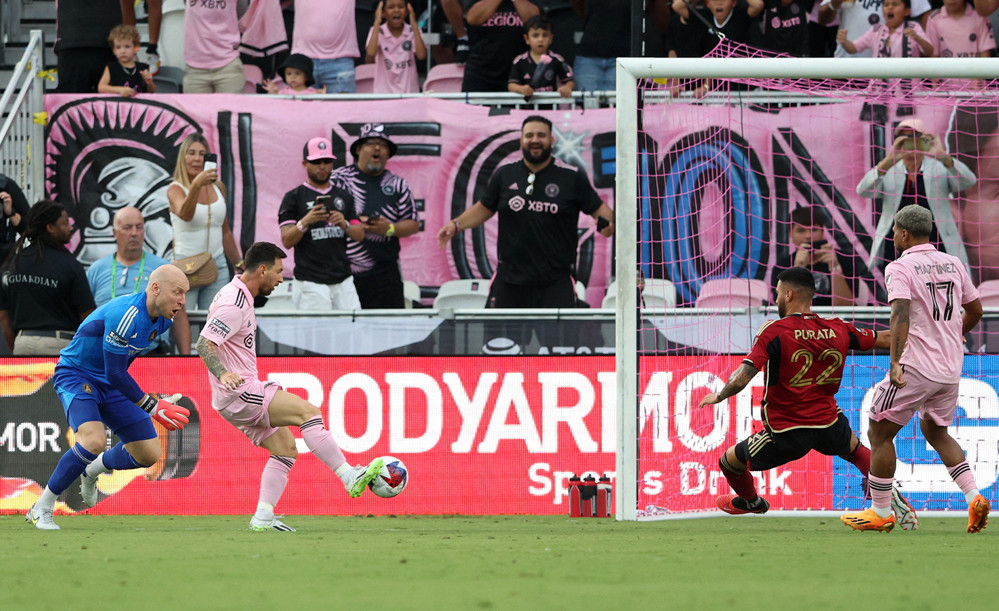 Messi tracker: Goals, assists, key moments for Inter Miami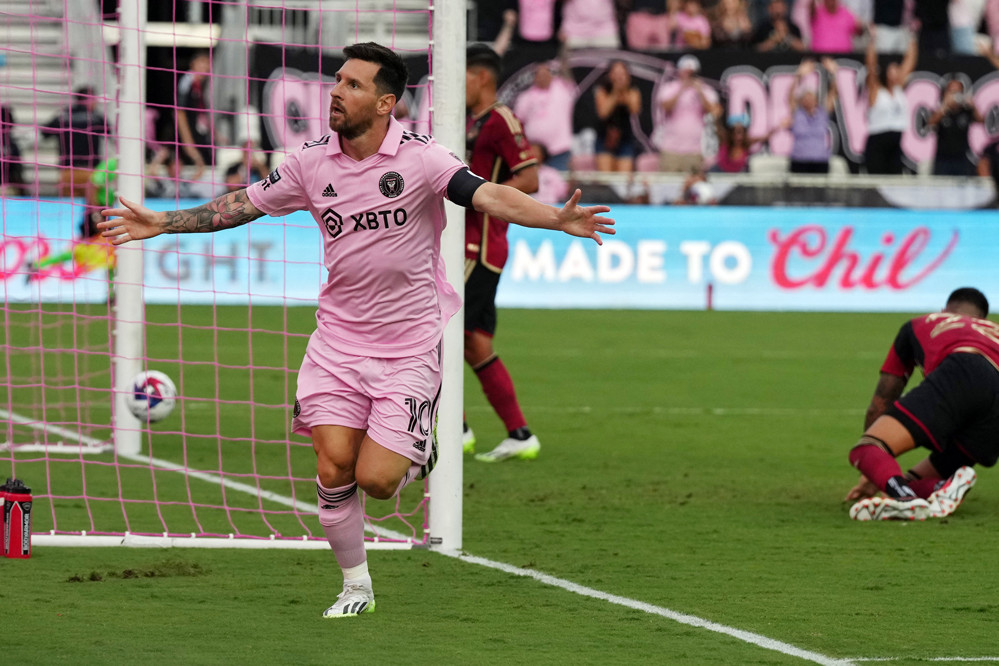 Lionel Messi's move to Major League Soccer is arguably the biggest sports deal in America's history. The superstar has won La Liga, Ligue 1, the Champions League and the World Cup. Now, he faces a new challenge with Inter Miami.
Miami currently sits in 15th place at the bottom of the MLS Eastern Conference standings, and with 12 games left in the regular season, Miami must reach ninth place to make the playoffs. To qualify for Round 1 of the MLS Cup playoffs, Miami will play the eighth-place team in a wild card match if it finishes ninth.
From July 21 through August 19, there is a pause in the regular season for the Leagues Cup, a competition between all MLS and Liga MX sides (47 teams in total). On Aug. 20, Miami will play Charlotte FC in MLS, and on Aug. 23, Miami will play FC Cincinnati in the U.S. Open Cup semifinals.
Messi has scored the following goals so far: